"I am Jewels, and I was officially adopted on October 6, 2016. I wanted to let u know I 💖 my new home! I 💖 my sissy, Doxie Gretal, soooooo much! As you can see, we enjoy napping together.  My mommy & daddy love having me around, too! They take me on daily walks, brush me everyday, and my absolute favorite thing is going "bye-bye!" in our car.  I'm starting to be more playful and love to have fun, but I'm always ready at the end of the day to snuggle up and call it a night!"
💖 Jewels🐾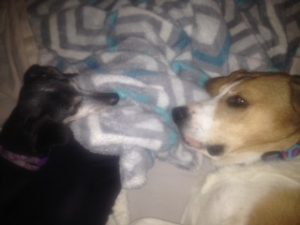 Donate to the Tulsa SPCA today!
It is that time of year when generosity towards the Tulsa SPCA benefits both you and the organization.