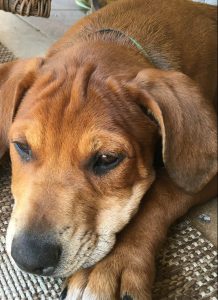 "Dash is very smart and a fast learner! He's pretty much potty trained and waits by the door when he needs to go. We are trying to get him well socialized with people and other animals so he goes everywhere with either me or my husband.
He's met so many people and other pups in his short time with us. He's been to our home obviously, we've had friends stay over and bring their big Labradoodle. Dash has been to our local pizza place and hung out on the patio with all of our friends, he's been to my moms house and met her dogs, he's been to Stephens parents house and met their pugs, and he was in our wedding last week! And now he's on our honeymoon with us in Taos, NM!
He LOVES hiking! He chews quite a bit so we've loaded him up with bones, squeaky toys etc because he chewed through his first collar, he chewed our friend Charlie's phone charger, and he's chewed through both his food and water bowl so we need to get metal ones. Also, we changed his name to Dash and he has lived up to it! The other day he found the perfect opportunity and "Dashed" into a five star restaurant and ran through about four different conjoining rooms while me, my husband, and several workers chased him until he couldn't go anymore and reached the back of the bar. Everyone thought he was sooooo cute, though. Even the restaurant goers so nobody was really worried about it! LOL
Donate to the Tulsa SPCA today!
It is that time of year when generosity towards the Tulsa SPCA benefits both you and the organization.