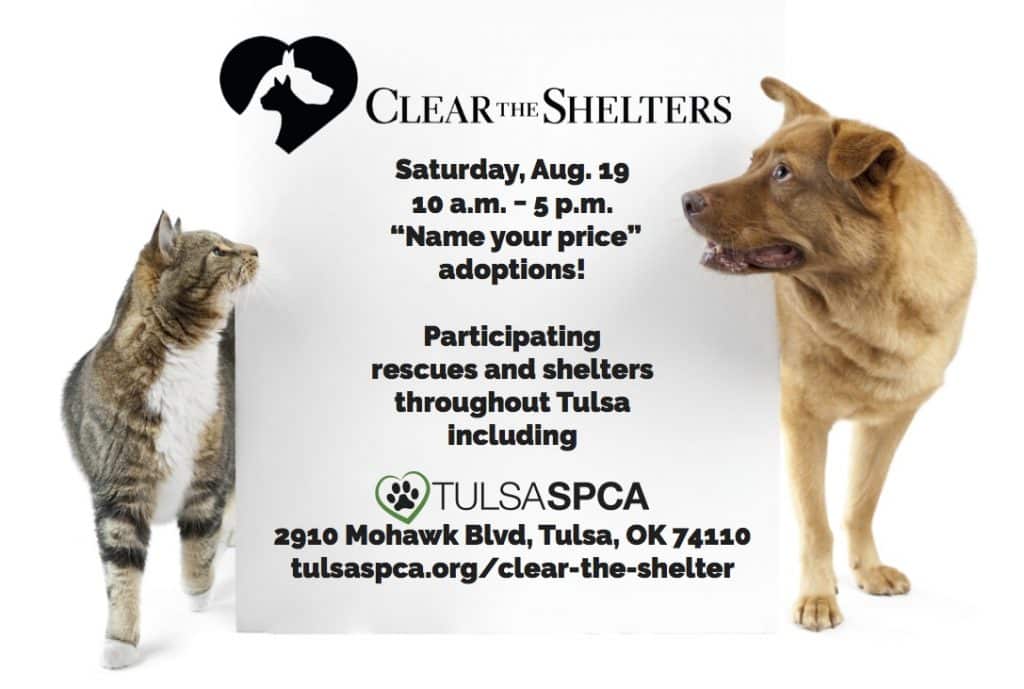 Clear the Shelters is a national movement to find every shelter animal a permanent home. Last year, over 50,000 animals nationwide found forever homes. This year the Tulsa SPCA and several other animal rescue organizations are coming together to adopt out as many animals as possible in a single day. Last year, 400 animals were adopted from Tulsa area shelters, meaning that in reality, 800 were saved. The ones that went home with families and the ones were able to rescue to replace them. This year we hope save even more lives.
Below is a list of other participating rescue organizations in Tulsa:
Animal Aid of Tulsa, Woodland West Animal Hospital – 9360 S. Union Ave. Tulsa, OK

$25 dogs, cats 918-794-6688

Animal Rescue Foundation (ARF) – 5201 S. Yale Ave, Tulsa, OK
Bixby Animal Rescue Network – 15606 S. Memorial Drive, Bixby OK

$75 dogs, $150 cats 918-955-1914

Broken Arrow Animal Shelter – 4121 E. Omaha St, Broken Arrow, OK
Humane Society of Tulsa – 6232 E. 60th St., Tulsa, OK
Okmulgee Humane Society – 1239 N. Okmulgee Ave, Okmulgee, OK
Pet Angels Rescue- petangelsrescue.org

$150 dogs, $75 cats 405-413-2895

Tulsa Animal Welfare – 3031 North Erie Ave, Tulsa, OK
Tulsa SPCA – 2910 Mohawk Blvd. Tulsa, OK

Name your price 918-428-7722

Washington County SPCA – 16620 OK-123, Bartlesville, OK

$75 dogs, $50 cats 918-440-1303
These rescues will be at Woodland Hills Mall on Saturday August 19th 10AM-5PM:
Cleveland Area Pound Pals, Dillard's Court

$65 dogs, $35 cats 918-845-2990

Sapulpa Animal Shelter, Dillard's Court

$40 dogs, $25 cats 918-227-2722

Oklahoma Alliance for Animals, Dillard's Court
Tall Tails Rescue/Wagoner Animal Shelter, Dillard's Court

$60 dogs & cats  918-606-4149

CARE-Compassionate Animal Rescue Efforts, Macy's Court

$150 dogs, $200 puppies  918-277-6235

Double D Delightful Dogs, Macy's Court
City of Glenpool Animal Shelter, Sears's Court

$75 dogs, $55 cats 918-322-8110

Puppy Haven Rescue, Macy's Court
Rainy Days Rescue, Sear's Court

$65 dogs/cats 918-844-9395
For any questions on Clear the Shelters email cadams@tulsaspca.org or call 918-428-7722 ext. 28.