Sometimes animals that come to the Tulsa SPCA are not adoption-ready and require time in loving foster homes before they will be ready to find their forever homes.
Why we need foster volunteers.
Foster volunteers temporarily care for foster- eligible animals, either until they are ready for adoption or for a portion of the total time they require fostering. Foster volunteers caring for Tulsa SPCA animals in their own homes allows us to increase the number of animals we can save!
Animals eligible for foster.
Those who most often require fostering include the ill, injured, and/or immature (too young and/or underweight to be spayed/neutered). Additionally, some animals simply require socialization before they can be made available for adoption.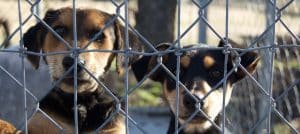 Our commitment.
We commit to evaluating all animals medically and behaviorally before making them foster-eligible. The Tulsa SPCA provides all the supplies you will need in order to foster (food, litter, crates, toys, bedding, medicine, etc.) and all medical treatments and check-ups are done on-site in our clinic.
Your Commitment.
We expect that our foster volunteers read the Foster Handbook in its entirety, attend orientation/training and adhere to the latest program policies and procedures at all times. Foster volunteers are also expected to maintain open lines of communication with the Volunteer Manager and our clinic, which requires access to phone or email. The majority of your foster care-giving will take place in your home; however foster parents must be prepared to bring their foster animals back to the Tulsa SPCA for vet checks until they are adoption ready.
Foster Requirements.
Beyond the willingness to make the commitment described above there are specific requirements foster volunteer applicants must meet before they can become official Tulsa SPCA foster parents. Please ensure that you meet the described criteria before submitting an application:
Must be at least 18 years old.
Have the consent of the head of the household to foster (if applicable).
Ability to pass a criminal background check.
Resident pets must all be spayed/neutered with vaccinations up-to-date.
Ability to isolate foster pets from resident pets if necessary.
Permission to foster from the homeowner or landlord, if applicable.
Commit to attend volunteer orientation and foster training.
Agree to return your foster animal when they become adoption-ready.
Must love animals and commit to provide your foster pet with excellent temporary care.
Process for new Foster Parents
Complete the Foster Pet Parent application here .
You will receive an email within 3 business days to schedule an interview and orientation.
Once you have been approved and have completed orientation, you will be added to the foster roster.
When we have a candidate for foster that fits your availability, you will receive an email requesting foster placement.
Frequently Asked Questions
How long will I have a foster animal(s) in my home?

The average amount of time is 2-4 weeks and is based upon the animal's need. The foster parent is always given a projected timeline for each individual animal before accepting placement.

What if I already have pets of my own?

Many foster parents already have pets of their own. We will help you evaluate your ability to care for foster animals in conjunction with your own pets.

Do I need to keep my pets separated from my foster animals?

There are pros and cons to this question, so we recommend that you provide an area in your home that can be completely separate, and easily cleaned. Personal pets and foster animals are not required to be kept separate, but foster parents should have the ability to do so if necessary.

Can I choose the type of animal that I want to foster?

Absolutely! Our goal is to match you with an animal (or animals) that you feel comfortable with and enjoy. It does not benefit you or the animals if you feel overwhelmed. We will contact you when an animal that matches your preferences becomes available. You can always let the Volunteer Manager know if you want to try something different!

How many animals can I foster at one time?

This is usually determined by the clinic and is based on the animal's best interest, your experience and housing structure and other limitations.

What if I need to go out of town, or have an event that interferes with my ability to foster?

Life happens to all of us, please let our Volunteer Manager or Clinic know and we will assist you.

What if I work?

Many of the animals that need fostering can be accommodated on a normal schedule. It is a factor we consider when looking at compatibility. Most animals, once adopted, will reside with people that have working schedules, and becoming accustomed to these routines in a foster home can make that animal much more adoptable.

What cost will I incur?

The financial cost to foster an animal through our program is minimal, usually your own transportation cost. We provide all necessary supplies, and all medical care is provided through our vet clinic.
Please keep in mind that we are not responsible for any damage caused by a foster pet.

What if my foster animal becomes sick?

We provide all of our foster parents with a detailed handbook that will help you get through most situations. If a situation needs immediate attention you are provided with a list of emergency contacts once your foster application is approved.