Are you looking for a great gift that gives back this holiday season? Look no further!
The 2022 Tulsa SPCA Rescue Love calendar features the winners of  our Pet Calendar Contest. Pets with the most votes earned a spot in the calendar which is now on sale!
Purchase online below or at these Tulsa-area businesses:
Sweet Tooth – 3541 S. Harvard
K9 Manners & More – 1000 E.Memphis (Broken Arrow)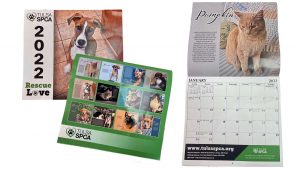 Purchase a Rescue Love calendar for a favorite teacher, the mail carrier who loves your dog's bark, your cat-loving hair stylist and ALL the people in your life who love dogs and cats!
It's the gift that will keep on giving throughout the entire year!